Technology Information
IBM Server :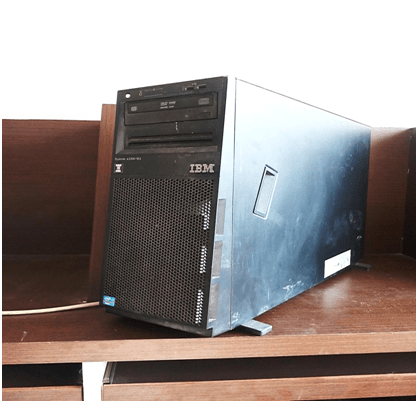 The System x3400 servers features:
Powerful quad-core 2.0 GHz/1333 MHz1, Intel Xeon E5405 processor, 2.33 GHz/1333 MHz Intel E5410 processor, 2.50 GHz/1333 MHz Intel E5420, and a 2.6 GHz/1333 MHz Intel E5430 processor, all with 12 MB L2 cache.
1 GB of 667 MHz DDR2 ECC system memory 2, 64 GB maximum.
Eight-port SAS/SATA controller or four-port native SATA controller
System offers one 670-watt power supply, or one hot-swap 835-watt power supply; optional hot-swap redundant power and cooling for hot-swap models
Integrated systems management processor
Six PCI slots: two 64-bit/133 MHz PCI-X slots, three PCI-Express slots, and one PCI 33 MHz slot
Eleven drive bays: 16×3 DVD-ROM, tape drive (option), and eight hot-swaps HDDs or four simple-swap HDDs
Up to 3.0 TB4 hot-swap SAS, 6.0 TB hot-swaps SATA disk storage, or 3.0 TB Simple-swap SATA storage
Integrated Broadcom 5721 KFB3 Gigabit Ethernet controller
5 U tower industry-standard models, rack mount optional
Four USB and two serial ports, and one integrated system management, one Parallel, one mouse, one keyboard, and one 10/100/1000 RJ45 port
High-availability and serviceability features:
Redundant cooling — Three hot-swap fans (single replaceable unit), with one hot- swap 835-watt power supply option available on select models
One 670-watt power supply, or one optional redundant power supply to support robust high-availability applications.
Hot-swap HDD bays with SAS connectors or simple-swap HDD bays with native SATA controller
SAS or SATA controller to support up to eight internal SAS or SATA HDD devices
AMF DDR2 ECC DIMMs, combined with an integrated ECC memory controller in core logic, to correct many soft and hard single-bit memory errors (using memory mirroring), while minimizing disruption of services to LAN clients
Memory hardware scrubbing to correct many soft memory errors automatically without software intervention
cache processors to improve data integrity and help reduce downtime
PFA on processors and memory to help alert the system administrator of an imminent component failure
Support for optional Remote Supervisor Adapter for remote systems management through a Web-based browser
Six hot-swap redundant system cooling fans to cool the system and enable replacement without powering down the server
Integrated systems management processor that supports:

Fan monitoring and control
Power supply monitoring
Temperature monitoring
Voltage monitoring
Power on/off, reset sequencing
LED controls (Diagnostics support)
IPMI capability that allows you to accept commands and send status
Remote firmware update
Numeric error logging

Information LED panel to give visual indications of system health
Onboard diagnostics LED map that provides error codes, which are explained in the hardware maintenance manual
Easy access to system board, adapter cards, processor, and memory
CPU failure recovery in SMP configurations; generates alerts error logs.
Firewall security :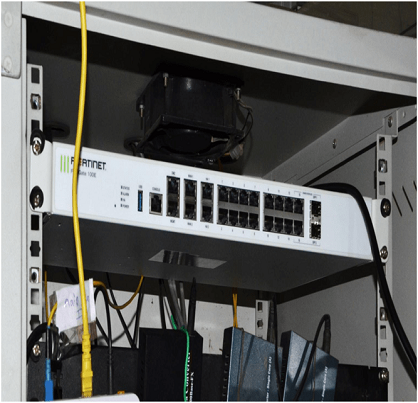 The Forti Gate 100E series delivers next generation firewall capabilities for mid-sized to large enterprises, with the flexibility to be deployed at the campus or enterprise branch. Protect against cyber threats with security processor powered high performance, security efficacy and deep visibility.
Security :-
Protects against known exploits, malware and malicious websites using continuous threat intelligence provided by Forti Guard Labs security services.
Identifies thousands of applications including cloud applications for deep inspection into network traffic.
Detects unknown attacks using dynamic analysis and provides automated mitigation to stop targeted attacks.
Networking :-
Delivers an extensive routing, switching, wireless controller and high performance IP sec VPN capabilities to consolidate networking and security functionality
Enables flexible deployment such as Next Generation Firewall and Secure SD-WAN
Performance :-
Delivers industry's best threat protection performance and ultra-low latency using purpose built-security processor (SPU) technology.
Provides industry-leading performance and protection for SSL encrypted traffic
Management :-
Single Pane of Glass with Network Operations Center (NOC) view provides 360° visibility to identify issues quickly and intuitively.
Predefined compliance checklist analyzes the deployment and highlights best practices to improve overall security posture.
Certification :-
Independently tested and validated best security effectiveness and performance
Received unparalleled third-party certifications from NSS Labs, ICSA, Virus Bulletin and AV Comparatives
Security Fabric :-
Enables Forti net and Fabric-ready partners' products to collaboratively integrate and provide end-to-end security across the entire attack surface.
Automatically builds Network Topology visualizations which discover IoT devices and provide complete visibility into Forti net and Fabric-ready partner products.
Powered by SPU SoC3
Combines a RISC-based CPU with Fortinet's proprietary Security Processing Unit (SPU) content and network processors for unmatched performance.
Simplifies appliance design and enables breakthrough performance for smaller networks.
Supports firewall acceleration across all packet sizes for maximum throughput.
Delivers accelerated UTM content processing for superior performance and protection.
Accelerates VPN performance for high speed, secure remote access.
Network facility :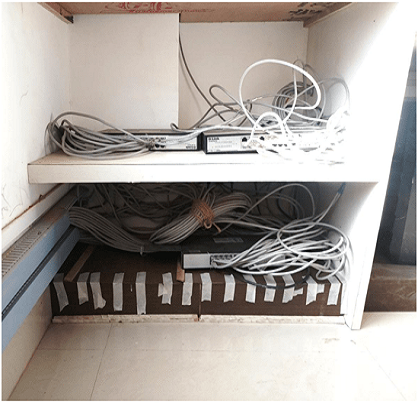 D-Link
24- Port 10/100Mbps Unmanaged Ethernet Switch (There are 2 ports of same configuration and one is with 12- Port )
Description :-
D-Link Expands wired network with the D-Link 24- Port 10/100Mbps Unmanaged Ethernet Switch. The DES-1024C lets, network up to 24 Ethernet- enabled devices.At speed up to 100 Mbps. Designed to support fast ethernet devices, the DES-1024C is ideal for multimedia, graphics and other application that requires large files transfers across the network.
Features :-
24 10/100 Mbps switched ports<
Auto-negotiation for full/half duplex at 10/100 Mbps speed
Up to 200 Mbps bandwidth in full-duplex
Auto MD/MDI- X for automatic cable detection.
Specification :-
Switching capacity -4.8 Gbps
Maximum packet forwarding rate- 148.8 Kpps
MAC address table- 8K
Number of queues – 2
Traffic prioritization 802.1p -148.8 Kpps
Types of networks :-
Local area network- or LANconsists of a computer network at a single site for all computers in our institute. A LAN is very useful for sharing resources and built with relatively expensive hardware.
Internet Access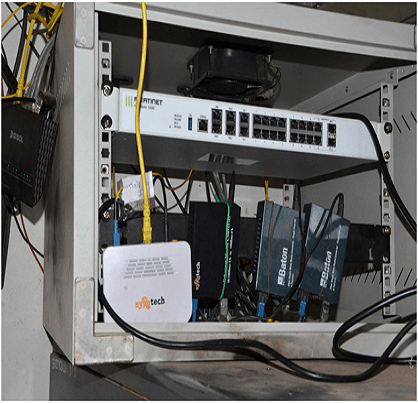 10 Mbps leased line connects with Syrotech OLT system :-
The Institute currently has 10Mbps speed leased line Internet access. All labs are equipped with LAN, Internet facility and Internet access. We also have separate internet cafe in our library for students for e-books and e-journals. Wi-Fi facility is available everywhere on campus. The College allows unlimited access of Internet facility to teachers engaged in research work, Computer with internet facility is provided to the faculty and Internet can be accessed by the faculty from their respective seat. The computer with internet facility is provided with MCQs to enable students to practice mathematical aptitude, reasoning, etc. Internet and Wi-Fi facility: Computer facility including access to internet is provided in hostel.
Besides the above, the College also has smart class rooms, Computer labs with internet facility, OHPs, Video-conferencing facility and seminar hall to develop interactive skills.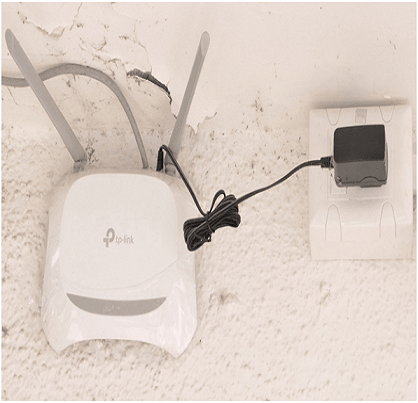 Wi-Fi Router :-
Company:- TP-Link
Model:- TL-WR840N
300Mbps wireless N Router
No Of routers:-6